Links and Bible Study Links
Appendixes to the Companion Bible by Dr. E.W. Bullinger
Number in Scripture by E.W. Bullinger
The Pillar of Enoch by Helena
David's Heavenly Mysteries
Oak Island
Ivan Panin
Blueletterbible
Shepherds Chapel
The Linked Word Project
"Mathematics and Christianity" by Dr.R.Craigen
David Langtree Baruch Hashem Adona.org
Time Lines by David Langtree
Bible Gematria
Divine Numbers the Language of the Universe
E-book by Michael Joyce
"OUR MEDIATOR"
1 Timothy 2:5
(125)

and
Giza Pyramid Puzzle Cube
For those who want to try a challenging puzzle.
(I solved it in 2007)
Acts 4:
10 Be it known unto you all, and to all the people of Israel, that by the name of Jesus Christ of Nazareth, whom you crucified, whom God raised from the dead, even by him doth this man stand here before you whole.
11 This is the stone which was set at nought of you builders, which is become the head of the corner.
12 Neither is there salvation in any other: for there is none other name under heaven given among men, whereby we must be saved.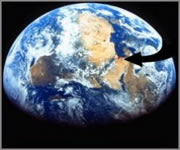 Acts 1:10 And while they looked stedfastly toward heaven as he went up, behold, two men stood by them in white apparel; 11 Which also said, Ye men of Galilee, why stand ye gazing up into heaven? this same Jesus, which is taken up from you into heaven, shall so come in like manner as ye have seen him go into heaven.
Zechariah 14:4 And his feet shall stand in that day upon the mount of Olives, which is before Jerusalem on the east, and the mount of Olives shall cleave in the midst thereof toward the east and toward the west, and there shall be a very great valley; and half of the mountain shall remove toward the north, and half of it toward the south.

Revelation 16:18 And there was a great earthquake, such as was not since men were upon the earth, so mighty an earthquake, and so great.